During the classes, I will  lead you step-by-step through the process of wet felting while you create your own unique piece of felt art in the class.
During Felting 101 you will learn to select wool and, with soap and water, make beautiful, seamless pieces such as handbags, vessels, or even mittens you will be proud to show off to your friends.
In Object of Attachment you will also learn to incorporate found objects into your designs.
In the third level Architectural: Forms of Felt we move into more advanced techniques of applying, even more, structure to the felt.
All classes begin with a centering process and communion with nature to inspire your work.
From there, I will assist you with your project, whether it be a traditional felting arrangement or non-traditional piece of artwork.
Unleash your imagination!
All Classes will be held at my studio.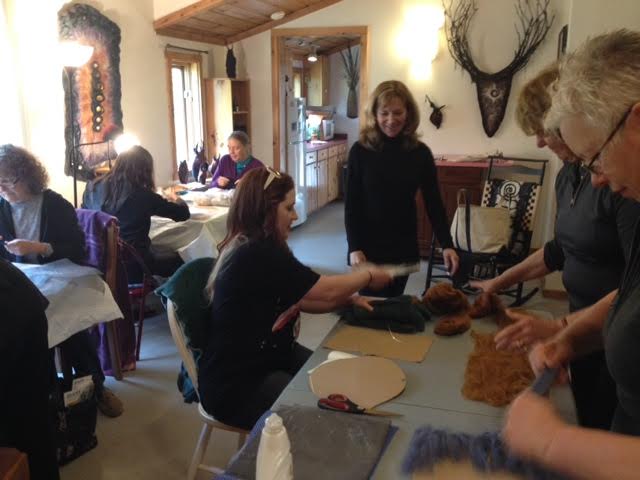 2018 Winter Season
January 20: LEVEL 1/ Felting 101: The Basics- 12-4pm (4 hours)-$75 (includes 2 ounces of wool)
February 11: LEVEL 1/ Felting 101: The Basics- 12-4pm (4 hours)-$75 (includes 2 ounces of wool)
February 25: LEVEL 2/ Object of Attachment- 12-5pm (5 hours)- $90, (includes 2 ounces of wool)
March 11: LEVEL 3/ Architectural Forms- 12-5pm (5 hours)- $120, (includes 2 ounces of wool)
March 25: LEVEL 1/ Felting 101: The Basics- 12-4pm (4 hours)-$75 (includes 2 ounces of wool)